Explore Bitcoin NFT viewer - Ordinals View part 1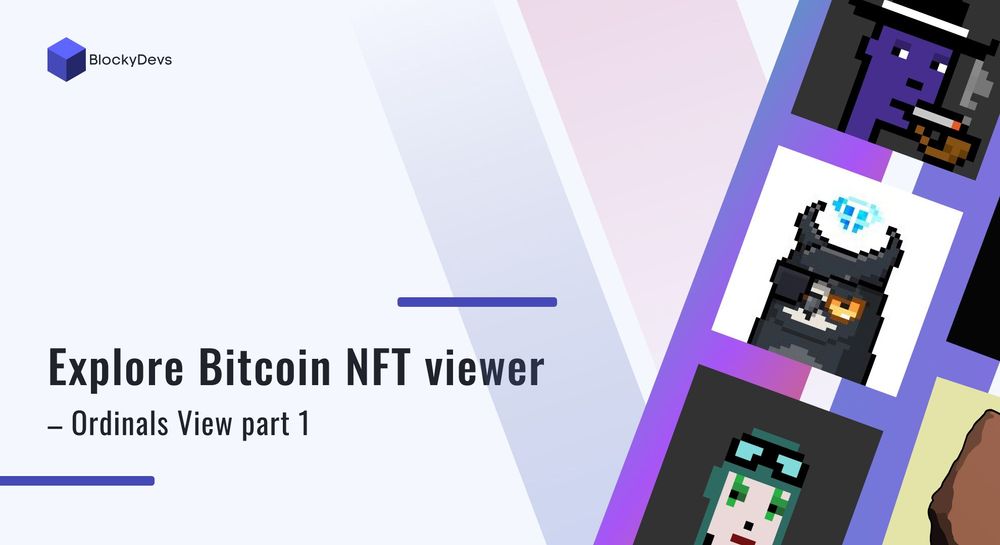 The idea for the Ordinals View came from realizing that NFTs are not just limited to Ethereum or other DLTs but can also exist natively on Bitcoin. We, BlockyDevs - the creators of Ordinals View, recognized the potential of Bitcoin NFTs and wanted to help build better and more user-friendly projects for the young Bitcoin NFT community to thrive. Explore Ordinals View.
Our experience in developing NFT-related projects on multiple DLTs and our expertise in blockchain technology and Web3 make us a trusted technology partner for companies looking to integrate blockchain into our processes.
The article about Ordinals View is divided into two parts - in the first one, we will tell you about the purpose of the viewer, the vision behind the project, the functionalities, UVPs, and the issues that the product solves. Before reading the text, read the article in which we describe how Bitcoin Ordinals work.
The goal of Ordinals View
The Ordinals View project aims to create a platform that allows anyone to take part in the Ordinals' journey by providing a user-friendly experience, improving the efficiency and transparency of the existing solutions. Through this project, BlockyDevs hopes to bring the benefits of blockchain technology to a wider audience and enable them to participate in the growing NFT market. The team behind Ordinals View believes that by leveraging the power of Bitcoin and blockchain technology, we can build a better and more decentralized future for everyone.
The project's vision
BlockyDevs' vision for Ordinals View is to empower the Bitcoin NFT community by providing them with the tools they need to create, trade, and collect NFTs on the Bitcoin blockchain. Our experience and expertise in the blockchain space make us well-positioned to help companies and individuals alike in integrating blockchain technology into our processes and unlocking its full potential.
Exploring the functionalities of the Ordinals View
Ordinals View is a platform built to provide an easy and user-friendly experience for exploring Bitcoin NFTs. Blockydevs identified the missing functionalities in existing solutions, aimed to fill those gaps with Ordinals View, and started by building a gallery that would improve user experience, and the platform has since evolved to offer many more features.
One of the most exciting features of Ordinals View is the ability to discover new Bitcoin NFTs in real time. Users can sort the Ordinals based on the newest or oldest and filter them by content type. It allows users to discover the specific types of Ordinals they are interested in, such as images or videos.
In addition to discovery, Ordinals View provides detailed information about specific Ordinals. Users can view the transaction in which the Ordinal was created, the first owner of the ordinal, the block height, and the full content. That is particularly useful for users who want to know the history of a particular Bitcoin NFT.
Many Bitcoin NFTs are of the HTML and MP4 content type, and Ordinals View allows users to run and enjoy this content. The platform is also working to fully support all possible MIME types so that users can enjoy the amazing Ordinals available.
Ordinals View is also working on providing more filters and more specific details about Ordinals. That includes price history, metadata, and current owner information. These details help users make conscious decisions when buying or selling Bitcoin NFTs.
Overall, Ordinals View is a powerful platform for exploring and discovering Bitcoin NFTs. With its user-friendly interface and innovative features, it is quickly becoming a go-to destination for anyone interested in the Ordinals journey.
Ordinals View's UVP
Ordinals View was built to provide a gateway to the exciting world of Bitcoin NFTs. While we do not have a specific Unique Value Proposition (UVP), we aim to build as much as we can to create the best possible user experience. By providing easy access to Bitcoin NFTs and detailed information about them, Ordinals View empowers users to explore and discover the incredible potential of this technology. Whether you're a seasoned collector or just getting started in the world of Bitcoin NFTs, Ordinals View is the perfect gateway to this exciting and rapidly evolving ecosystem.
Issues solved by Ordinals View
Ordinals View resolves a number of issues for anyone interested in the world of Bitcoin Ordinals. One of the main benefits of the viewer is that it allows anyone, whether they are Web3 native or not, to easily discover the incredible potential of Bitcoin NFTs. By providing access to all the important information about each Ordinal in one convenient location, users can quickly get up to speed on this exciting new technology. Additionally, the platform's user-friendly interface and innovative features make it easy to navigate and explore the world of Bitcoin NFTs, even for those who are just getting started. Overall, Ordinals View is an invaluable resource for anyone who wants to learn more about Bitcoin Ordinals and the incredible opportunities they offer.
We power your Web3 future
We are a team of experienced blockchain enthusiasts who are more than willing to help you on your way to Web3. We provide end-to-end blockchain solutions for enterprises and ambitious startups. Let's create your future Web3 success together.