Explore Bitcoin NFT viewer - Ordinals View part 2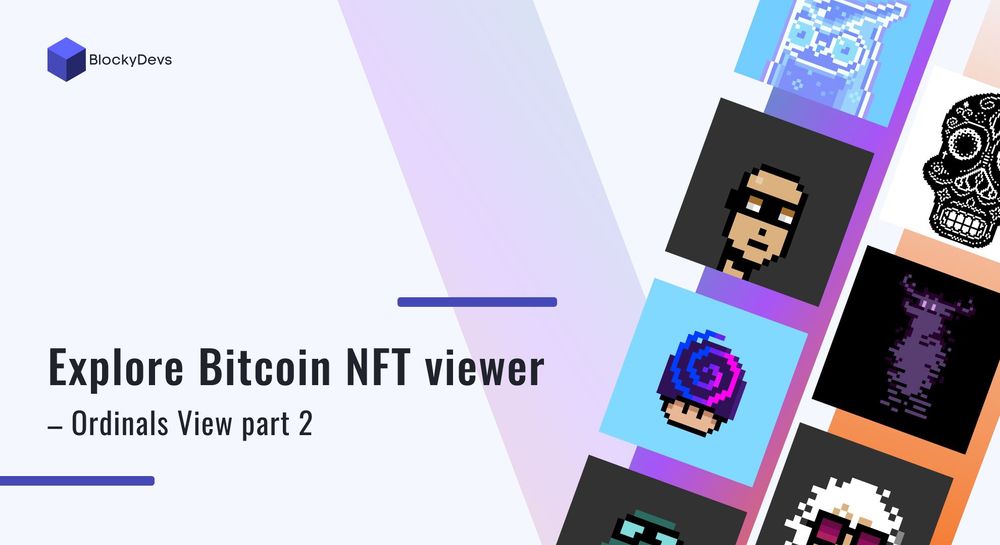 We welcome you to the second article on Ordinals View. Before you read it, please read the first part of the article. This time we will tell you what makes our product different from other browsers, its advantages, what steps we have achieved in the roadmap, describe the production process and the problems, team, problems we have solved, and plans for the future. We invite you to read more and explore Ordinals View!
What sets Ordinals View apart from other NFT browsers?
Ordinals View stands out from other Ordinals browsers in several ways. Firstly, the platform is designed to provide a seamless UX that is accessible to a wide range of users, regardless of their level of experience with blockchain technology. It is achieved through an intuitive interface and a range of innovative features that make it easy to discover and explore Bitcoin NFTs. Additionally, our gallery is faster than the existing browsers. Overall, Ordinals View represents a significant step forward in the world of Bitcoin NFTs and is poised to become a reliable platform for anyone looking to discover and explore this exciting new technology.
The advantages of using Ordinals View for NFT discovery and exploration
Due to its numerous advantages, Ordinals View has become a preferred gallery for Bitcoin NFTs. The team is always open to input from the community, and we strive to improve the platform regularly. Another advantage of Ordinals View is its various filtering and sorting options that help users find the specific type of NFT they are interested in. The gallery's features make it stand out among other Ordinals browsers.
Accomplishments of Ordinals View's roadmap
Ordinals View has already implemented many features from its roadmap. Users can now discover new Ordinals in real time, filter them by content type, and sort them by creation time. The platform also supports various content types such as images, gifs, mp4, and HTML, allowing users to enjoy different types of NFTs. Additionally, basic information about the Ordinal can be viewed, including the transaction in which it was created, its first owner, and the block height. However, there is still work to be done. The team is currently focusing on adding more filters, displaying price and ownership history, supporting more content types, and supporting the Ordinals metadata standard.
Implementing Ordinals View: progress report and development process.
The implementation process for Ordinals View has been efficient and effective, as the team is working with the agile methodology to deliver the best product in the shortest time possible. The team of four, consisting of two frontend developers, one backend developer, and a project manager, has made significant progress in just two weeks. The backend service tracks all Ordinals, allowing filtering, sorting, and integration with AWS tools. The frontend team has implemented a visually pleasing tiles grid to display the Ordinals and the Ordinal details page, filtering, and sorting. In addition, the frontend team has added support for MP4 and HTML Ordinals, allowing users to view the HTML content and run it if they are interested. Overall, the implementation process has been smooth, and the team has been able to deliver on many of our goals within a short time frame.
Dealing with issues during the development
The implementation of Ordinals View was not without its challenges. As a new concept in the Bitcoin community, there was a lack of documentation available for the technology behind Ordinals. However, the team behind the project was well-versed in blockchain technology, which allowed them to conduct thorough research and gain a solid understanding of the concept and the rules governing Ordinals. Despite this hurdle, we were able to begin the development process after just one day of research. That showcases the team's expertise and ability to quickly adapt to new challenges, ensuring that the development of Ordinals View remained on track.
In-house development and marketing collaboration
In the development of Ordinals View, the entire process has been conducted in-house, including UI/UX design, development, and product launch. The team collaborates closely to ensure the project meets its objectives. However, to ensure the product is marketed effectively, we partnered with a We Make It marketing agency with experience in the blockchain industry. The collaboration has been fruitful and helped to build a strong marketing strategy for the product.
Meet the team behind Ordinals View
Our team at Ordinals View is truly one-of-a-kind. With over 20 years of experience in FinTech solutions and an impressive track record in blockchain development, our developers bring a wealth of knowledge and expertise to the table. In addition to the extensive experience in multiple blockchains, our team has graduated from some of the best universities in Poland. We also have a highly-skilled DevOps team and an exceptional in-house design team consisting of UX, UI, and graphic designers. The team's achievements include successfully implementing real-time tracking of all Ordinals, filtering and sorting capabilities, and support for multiple content types. We take pride in what sets us apart in the crypto market, and that is our focus on creating a user-friendly and accessible product for anyone interested in exploring the world of Bitcoin NFTs.
Summary - the future of Ordinals View: development plans ahead
The future plans for Ordinals View are very exciting as we aim to create the best ecosystem around Ordinals. Currently, we are working on a minter, metadata standard, launchpad, and non-custodial marketplace in parallel to the gallery. The minter and the landing page of the launchpad are expected to go live in March while we continue to work on the metadata standard, which will provide a comprehensive set of data to describe the unique characteristics of each ordinal. Moreover, the non-custodial marketplace will enable users to buy, sell, and trade Ordinals without needing a middleman. We are committed to continuously improving the user experience and adding new features that provide additional value to our users.
We power your Web3 future
We are a team of experienced blockchain enthusiasts who are more than willing to help you on your way to Web3. We provide end-to-end blockchain solutions for enterprises and ambitious startups. Let's create your future Web3 success together.